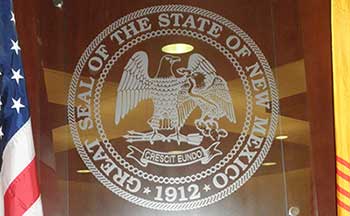 Santa Fe Glass & Mirror carries the best products and works with professionally trained technicians. We're your trusted source for commercial window replacement in Santa Fe, NM. With more than 35 years of experience, we know commercial glass repair and will stay in communication with you to get every detail right. We arrive fast and take care of glasswork quickly so you can keep your shop open for business!
Glass sandblasting is one of the most desirable etching processes available today.
This process uses a sandblaster and an air compressor to power the system which blasts high pressure abrasives onto the glass. The hard abrasives then lightly chips the surface of the glass to create a frosted look. The longer you blast, and the higher the pressure, the deeper the exposed parts of the stencil are etched into the glass.

What's the first thing customers see? You got it right—it's your storefront. If that glass is showing its age, it's time for an update or upgrade. We'll design a solution that's right for your business at a cost that won't break the bank. We're the best choice for window replacement near Santa Fe, NM.
Safety glass
When you need durable, heavy-duty glass, Santa Fe Glass & Mirror is the way to go. We provide security glass made to deter theft. We're happy to discuss options with you to find something to fit your space and your budget. We're licensed by the State of New Mexico for all our work.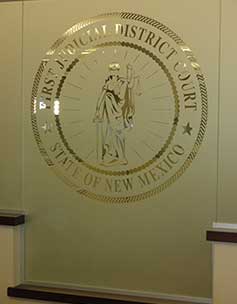 Commercial glass replacement
You want to maintain a particular image for your business. We're dedicated to making your business aesthetically pleasing while providing cost-effective options. Over the decades, we've worked hard to become the trusted source for commercial glass replacement in Santa Fe, Seton Village, Tesuque, La Cienega, and Aqua Fria, NM and surrounding areas. Call us up for a free estimate and to learn more about our quality products and methods.
Glasswork done right the first time, every time
Whenever you need installation or repair, choose Santa Fe Glass & Mirror. We're the trusted name in all things glass and want to earn your business. No job is too big or too small for our professional technicians. Contact us today at 505-984-0910 to learn more about commercial glass repairs, residential glass replacements, glass shower doors, and more.