September 19, 2023 8:21 pm
Leave your thoughts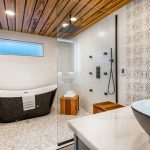 When it comes to remodeling a bathroom, many homeowners focus on selecting the right tiles, fixtures, and colors. While these aspects are indeed important, one often overlooked factor that can greatly enhance the overall aesthetics of your bathroom is the choice of glass for your shower enclosure. A well-chosen glass can give your bathroom a luxurious, modern, or even a traditional look, depending on your preferences. In this blog post, we will explore different types of glass that are commonly used for shower enclosures and how to choose the perfect one for your bathroom.
1. Safety First: Tempered Glass
When it comes to shower enclosures, safety should always be a top priority. Tempered glass is a popular choice for shower enclosures because of its enhanced strength and safety features. Tempered glass is processed in a way that makes it significantly stronger than regular glass, making it resistant to shattering. In the event of breakage, tempered glass breaks into small, harmless pieces, minimizing the risk of injuries. When choosing the glass for your shower enclosure, make sure to opt for tempered glass to ensure the safety of your family.
2. Clear Glass for a Timeless Look
If you are looking for a sleek, timeless, and modern look for your bathroom, clear glass is an excellent choice. Clear glass allows for maximum light transmission, making the space feel larger, brighter, and more open. It also showcases the intricate details of your shower tiles and fixtures, adding a touch of sophistication to your bathroom. Another advantage of clear glass is that it complements any color scheme or design style, making it a versatile option.
3. Frosted Glass for Privacy
For those who prioritize privacy in their bathrooms, frosted glass is the perfect solution. Frosted glass features a surface that is etched or sandblasted, creating a translucent effect that obscures the view while still allowing light to enter the shower enclosure. This type of glass is ideal for shared bathrooms, guest bathrooms, or if you simply prefer a more modest feel. Frosted glass also provides a unique design opportunity, as it can be customized with various patterns or designs to add a touch of elegance to your bathroom.
4. Textured Glass for a Luxurious Touch
If you want to take your bathroom aesthetics to the next level, consider opting for textured glass. Textured glass adds visual interest and depth to your shower enclosure, creating an instant focal point in the bathroom. With a wide range of textures available – such as rain, bubble, or hammered glass – you can choose a style that complements the overall theme of your bathroom. Textured glass not only offers privacy but also creates a luxurious spa-like feel, transforming your shower time into a truly indulgent experience.
5. Low-Iron Glass for Crystal Clear Brilliance
For those who appreciate absolute clarity and brilliance, low-iron glass is the answer. Traditional glass contains a small amount of iron, which can give it a slight greenish or bluish tint. This tint can affect the true color of your shower tiles and fixtures. Low-iron glass, on the other hand, is formulated with a reduced iron content, resulting in exceptional clarity and color accuracy. This type of glass is perfect if you have invested in high-quality tiles and fixtures and want to showcase their true beauty.
Conclusion
Choosing the perfect glass for your shower enclosure can significantly elevate the aesthetics of your bathroom. Whether you opt for clear glass for a timeless look, frosted glass for privacy, textured glass for a luxurious touch, or low-iron glass for crystal clear brilliance, selecting the right glass can transform your bathroom into a space that not only meets your practical needs but also reflects your personal style. So, take your time, consider factors such as safety, privacy, and design, and enjoy the process of creating your dream bathroom.
Got Questions? Let Us Help!
Santa Fe Glass & Mirror is the premier provider of reliable glass services in Santa Fe and the surrounding areas. We are a locally-owned and operated business with over 35 years of experience. Our friendly and professional staff work to provide quality services and products at reasonable prices. At Santa Fe Glass & Mirror, we offer architectural custom glass, bath mirrors, beveled glass, custom mirror walls, custom tub and shower enclosures, furniture tops, glass replacements insulated glass, lettering and design, mirrored closet doors, mirrors, picture frame glass, plexiglass, replacement windows, safety glass, sandblasting, screens, tempered glass and much more. Call us today to receive an estimate on our services.
Categorised in: Glass Shower Enclosures
This post was written by admin