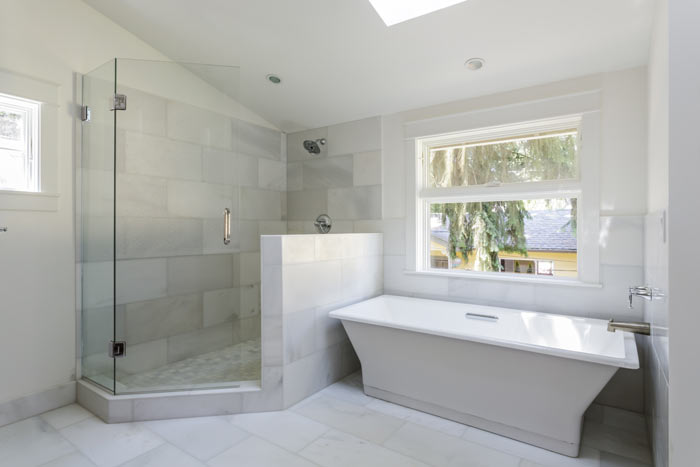 May 1, 2017 8:55 pm
Leave your thoughts
Are you planning to install glass shower doors in Santa Fe, NM? If so, you have a choice to make about which type of door makes sense for the needs of you and your family.
Keep reading to learn more about framed and frameless glass shower doors to help guide your decision-making process.
Framed glass shower doors
A glass shower door is classified as framed when the door features some kind of framework placed along the edges of the glass. In most cases, you can expect to see either a chrome or gold finish, though rubber or other types of seals might also be used.
Framed glass shower doors are:
Effective at keeping water inside the shower: Framed glass shower doors feature sweeps and seals that allow for flexible placement of the door and also help to ensure that the door remains firmly in place. Because this type of door offers you the ability to place it wherever you would like in relation to the showerhead, you will be more effectively able to control water flow, lowering the chances that water will leak out of your shower and onto the floor.

Generally inexpensive:

Framed glass shower doors tend to be less expensive than their frameless counterparts. Frameless glass doors more often than not feature thicker glass to allow the door to do its job without having a frame in place. The hardware that is frequently used to hold frameless doors in place can add up in cost, too.
If you love the look of glass shower doors but are adhering to a specific budget, the framed option may be the right choice for you.
Frameless glass shower doors
These types of doors are considered to be more contemporary than framed models, as the frameless look began to be used more frequently starting about 20 years ago. A glass shower door is classified as frameless when there is no metal frame around the door and the door stays in place as a result of hinges.
Frameless glass shower doors can:
Be easier to clean: Framed glass shower doors require the metal frame to be cleaned, which adds another step to the cleaning process. In addition, corrosion and rust may develop along the metal frame, which is not the case with frameless glass shower doors.

Help to bring attention to a unique tile job:

If you want to place a special focus on the tilework in your shower, a frameless glass shower door offers a more streamlined look that makes the tile pop more than it would with a framed version.
If you're ready to schedule an appointment for installation of your glass shower doors in Santa Fe, NM, you can rely on Santa Fe Glass & Mirror. We've been in business for more than 20 years and pride ourselves on providing cost-effective solutions for every job. We also offer free estimates to first-time customers.
Our services include glass repair, installation and replacement, and we are experienced in working with architectural custom glass, beveled glass, bath mirrors, custom mirror walls, insulated glass, picture frame glass, replacement windows, safety glass, sandblasting, screens, tempered glass and much more. Contact us today!
Categorised in: Frameless Shower Door, Glass Shower Doors
This post was written by admin